Nashville Home Showings Rise again in August!
Posted by Jim Wood on Friday, September 4, 2020 at 9:53 AM
By Jim Wood / September 4, 2020
Comment
Nashville Home Showings Rise Again in August
Nashville Home Sellers Have reason to cheer again, Nashville Home Showings for August 2020 were the highest in 4 years!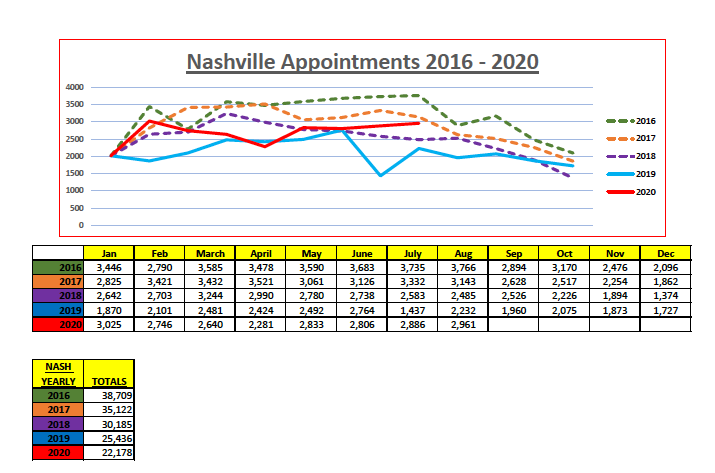 This was despite having an Inventory shortage of available homes the likes of which Nashville has not seen since 2007!
The main Drivers of these showings are threefold.
1. The Lowest Interest rates in a lifetime ( %3.09 for 30 Years).
2. An unprecedented relocation to Nashville by large companies. Amazon leads this group, bring 5,000 jobs to Nashville and Mt. Juliet.
Also moving here:
AllianceBernstein. ...
SmileDirectClub. ...
Pilot.com. ...
Bridgestone Americas. ...
Western Express, Inc. ...
Mitsubishi. ...
GM
Finally
3. The Quantum Shift in Telecummuting. Covid has moved the american worker to work from home and companies have seen the light. Productivity Job approval have risen while costs have fallen. The American worker is being freed to live outside the confines of a commute to work! Suddenly a big yard, a larger less expensive home are not just dreams but are reachable goals.
Together these forces are driving yet another housing boom despite the epidemic.
If you are looking for a home or thinking of selling one, we re hear to talk, Cathy and I have helped Nashville families with their Real Estate questions through boom times and hard times. You can trust us to give you the truth about your purchase or sale and save you $$$ and Time.
Cathy & Jim Wood
615-481-7609
"Our Business is about You"